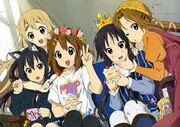 Konnichiwa minasan! I'm Kim but my friends sometimes calls me KimmyKim. I am in middle school and I play the guitar and I love listening to music. Music is my passion, I love doing things with music. My first concert was when I was in sixth grade, I played the bass guitar (like Mio!). Although I have already participated in a concert I still have a stage fright. This year on December my school is having a concert. And I hope I can participate in it as a member of the school band like I did last February.
I am a shy girl. Though I like to be with my friends. I am always ready and I always expect the unexpected. I love to read and write fanfictions and also my own story. I have light brown, curly, long hair and brown eyes. At school, when we sing my voice is very low but at home I sing my heart out. And I also can't sleep without listening to music. All my old friends moved to another school and I am the only one left from our group. Though there is one friend of mine that knows me like my old friends. I am a talkative person. I always have stories to tell.
I like wtching K-On!!. Every day when I come home from school, I always watch anime or read manga. But of course, I always leave time for me to listen to music and write a fanfiction. To be honest I really don't know how I got into the auditions for the school band. I mean I barely practice at home!