Background
Ritsu and Mio attended the same elementary school in the past and were classmates. Ritsu liked Mio for certain reasons and started to continiously pick on her. One day, she found her depressed on a playground. Mio told her that a composition she wrote at school won an award and she had to read it in front of a large audience. Because Mio was shy in nature, Ritsu helped her train for the reading. She taught her to imagine the audience as pineapples to stay calm which actually helped Mio to read her text without problems. After that, Mio continued to visit Ritsu's home and the two became best friends. Miraculously, the two were always in the same school and class together.

At some point in the past, her younger brother was born, Satoshi Tainaka. During her time at Junior High School, she became friends with her schoolmate Maki.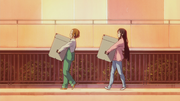 Years later, Ritsu and Mio watched a concert at TV which amazed Ritsu so much that much that she convinced Mio to form a band together. After buying the sticks at first, she needed to save a lot of money to be able to finally buy a used drum kit.
After graduating from Junior High School, she was accepted into Sakuragaoka High School.
Instantly after starting her high school career, Ritsu wanted to join the school's Light Music Club. She forced Mio to join her by destroying Mio's application to join the Literature Club, and then asked the teacher Sawako Yamanaka about the whereabouts of the club. After hearing that all members graduated, she came to the conclusion that she would be the club's next president if she joins it first. Thereafter, she officially starts the club with her and Mio as the first two club members and being the club's president.

Deciding to wait for new members to arrive, Ritsu is a bit disappointed to notice that no students are interested in joining the Light Music Club, but after that, she and Mio meet a student, Tsumugi Kotobuki, who was looking for the Choir Club, at which Ritsu immediately begs her to join the club, resulting in Mio hitting her over the head. When Mio decides to leave to continue on giving her club application to the Literature Club, she tells Mio about a promise they made to form a band some day after watching a live concert together, before her memory of that time is corrected by Mio herself. To her joy, Mugi joins the club after changing her mind.

Ritsu then holds a club meeting with Mio and Mugi at a fast food restaurant to discuss about getting another member to save the club from being permanently disbanded, with most of the ideas they come with proving to be bad. The next day, she, Mio and Mugi decide to make leaflets in order to attract other students' attention to the club in the hopes of getting a new member. She then gets an application form about a girl named Yui Hirasawa, whom she then imagines is a prodigy in playing the guitar. Unfortunately, when she and the rest finally meet her, they find out that Yui does not actually know how to play any instrument but holds a small show for her, with Yui finally joining the club with her gladly accepting her in.
Ad blocker interference detected!
Wikia is a free-to-use site that makes money from advertising. We have a modified experience for viewers using ad blockers

Wikia is not accessible if you've made further modifications. Remove the custom ad blocker rule(s) and the page will load as expected.