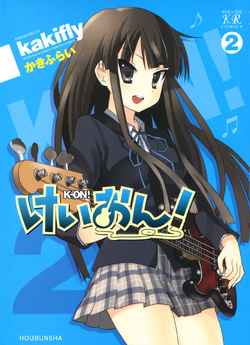 K-ON! Volume 2 is the second collective volume of the single chapters of the K-ON! Manga by Kakifly.
Publication
Edit
The volume was first published in Japan on the 26th of February 2009 by Houbunsha. The English version came out in March 2011, published by Yen Press.
Volume 2, Chapter 0 is a chapter that was not published in Houbunsha's Manga Time Kirara magazine and is exclusive to the tankōbon volume instead.
At the beginning and end of the volume, a short story is respectively shown. Both are coloured in blue, like the front cover.
At the end of the manga, a short story is shown that was written by the mangaka Daioki as a commendation. Similarly, it also features a single image drawn by the mangaka Mikami Komata.
At the end of some chapters, additional scribbles can be found.
Ad blocker interference detected!
Wikia is a free-to-use site that makes money from advertising. We have a modified experience for viewers using ad blockers

Wikia is not accessible if you've made further modifications. Remove the custom ad blocker rule(s) and the page will load as expected.