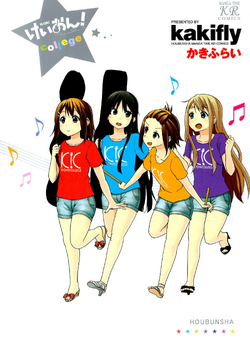 The fifth volume of the K-ON! Manga, called K-ON! College, follows two parallel storylines. The four high school graduates of Ho-kago Tea Time, Yui, Mio, Ritsu, and Mugi settle into their new univeristy life at N. Women's University, where they make new friends at the University's Light Music Club, like the girls in a rival band, Onna Gumi. Meanwhile, Ui and Jun join Azusa in reforming the Light Music Club at Sakuragaoka High School, recruiting new freshmen members into the club, and eventually founding their band Wakaba Girls.
The volume was published for the first time on the 27th of September 2012 in Japan. The English translation was released on the 23rd of July 2013 by Yen Press.
Ad blocker interference detected!
Wikia is a free-to-use site that makes money from advertising. We have a modified experience for viewers using ad blockers

Wikia is not accessible if you've made further modifications. Remove the custom ad blocker rule(s) and the page will load as expected.