Background
Jun grew up with her older brother Atsushi Suzuki and started playing bass at some point in the past. While attending her Junior High school, she became friends with Ui Hirasawa who was her schoolmate at that time. Eventually, she applied to the Sakuragaoka High School and was accepted.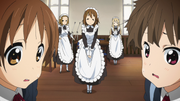 After starting her high school career, Jun was looking for clubs to join.

At first she was interested in the Light Music Club and visited it together with Ui, but the club turned out to be too weird for her, so she joined the school's Jazz Club instead.
Ad blocker interference detected!
Wikia is a free-to-use site that makes money from advertising. We have a modified experience for viewers using ad blockers

Wikia is not accessible if you've made further modifications. Remove the custom ad blocker rule(s) and the page will load as expected.