Cram Session!
Comments

0
637pages on
this wiki

K-ON! episode #3
Summary
Yui Hirasawa must pass on the midterm exams or else she won't be allowed to stay in the Light Music Club anymore. The others help Yui study to pass her second chance.
Plot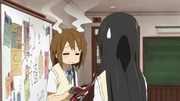 Mio Akiyama teaches Yui Hirasawa much basic knowledge about music, such as reading sheet music. On her way home, Nodoka Manabe catches up and tells her that the midterm exams are close. Yui suggests that, since she never learned for exams in the past either, she will be fine this time too.
A bit later, the students write their exams. Yui is the only one of her class to fail the test. Shortly after, she came to the club with the news that she won't be allowed to stay in it anymore if she fails the make-up test, which would lead to the club's disbandment. Worried, the others beg her to study assiduous this time.
The next week, Yui constantly tries to study properly but ends up every time playing her guitar. The day before the test, she finally begs Mio for help. Mio and the others decide to have a study session at Yui's house the night to prepare her for passing the test.
At Yui's place, the group is introduced to Yui's younger sister Ui Hirasawa and is pretty amazed about the differences in dependability between the two girls.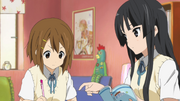 The study session starts right away, with Ritsu Tainaka shortly loosing interest and distracting the others by skylarking, which leads to Mio throwing her out. After some time, Nodoka stops by to say hello and the group talks about Yui's and Nodoka's shared past. Despite having few time, getting constantly distracted and Yui falling asleep once, Yui, Mio and Tsumugi Kotobuki finally finish the study session.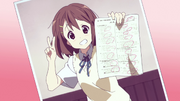 The next day, Yui writes the exam and retrieve it a few days later, scoring the best mark, 100 points. Elated about the club being saved again, they ask Yui to show her new skills in playing guitar, just to learn that she forgot every chord she practiced a while ago.