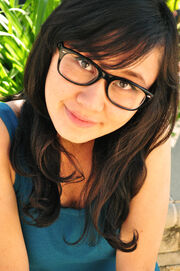 Christine Marie Cabanos
is a American voice actress, who plays the role of
Azusa Nakano
in the English version of the anime. She worked for Bandai Entertainment, FUNimation, Aniplex, Sentai Filmworks, and Media Blasters in various anime and other video games.
Other Roles
Edit
K-On! - Azusa Nakano
Oblivion Island: Haruka and the Magic Mirror - Haruka
Puella Magi Madoka Magica - Madoka Kaname
Rozen Maiden Overtüre - Sarah
Squid Girl - Squid Girl
Love Live! - Yukiho Kōsaka
Nepgear / Purple Sister - Hyperdimension Neptunia: The Animation
Pokémon Origins - Reina
Production Assistant
Edit
Durarara!!
First Squad
Gods Eater Burst
The Disappearance of Haruhi Suzumiya
K-ON!
Majin and the Forsaken Kingdom
The Melancholy of Haruhi Suzumiya (2nd Season)
The Melancholy of Haruhi-chan Suzumiya/Nyorōn Churuya-san
Redline
Rozen Maiden Overtüre
Squid Girl
Tekken Blood Vengeance
Reference
Edit
Ad blocker interference detected!
Wikia is a free-to-use site that makes money from advertising. We have a modified experience for viewers using ad blockers

Wikia is not accessible if you've made further modifications. Remove the custom ad blocker rule(s) and the page will load as expected.