"3-Minute Cooking"

うらおん! 3分クッキング




Ura-On! Sanpun Kukkingu

Season
2
Episode
Special
Japanese air date
December 1, 2012

3-Minute Cooking (うらおん! 3分クッキング, Ura-On! Sanpun Kukkingu), is an Ura-On!! special 2 minutes and 35 seconds long.
Plot
Video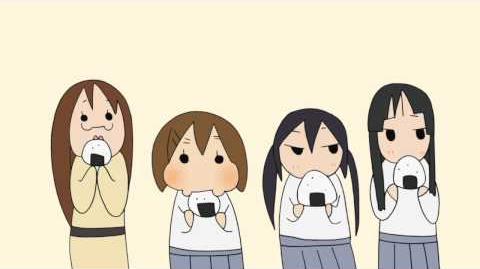 Number 1: Nakano-sensei
Azusa is planning to make fried egg for the cooking show which makes Tsumugi impress of her cooking. She can also make boiled egg, plain omelets and fresh eggs over rice. Until we realized that all Azusa can only cook is egg in different variety of cooking.
Number 2: Ritsu-sensei
Ritsu is planning to make rice balls (onigiri) for the today's cooking show and everyone (Sawako, Yui, Azusa and Mio) seems to enjoy them at the first thought. Knowing that her rice ball is different from other rice ball, because it is completed with hot mustard, wasabi, tabasco and habanero. After knowing, everyone's face turn pale. Ritsu makes his type of rice ball as a punishment for someone.
Number 3: Yamanaka-sensei
Sawako is planning to make a nikujaga (Meat and Potato). Sawako tells them that she make this cooking with plenty of love. Cooking is all about love~. Tsumugi thinks that someone should marry Sawako after eating her dish.
Reference
Edit
Ad blocker interference detected!
Wikia is a free-to-use site that makes money from advertising. We have a modified experience for viewers using ad blockers

Wikia is not accessible if you've made further modifications. Remove the custom ad blocker rule(s) and the page will load as expected.